Synopsis
A story of heart-stopping, toe-curling passion by the beloved bestselling author of Hard to Love, Resisting Her, and The Impact of You.

Straight-laced and well-mannered southerner Emmy Clarke is out of her depth in New York City's fashion world, but when she lands a job as an assistant at a modeling agency it seems like the perfect mix of business and pleasure. Working under the notoriously tyrannical Fiona Stone is a nightmare, but there's one distinct perk: ogling the ridiculously hot male models who parade through the office—particularly rising star Ben Shaw.
Ben is everything Emmy's not: exquisitely gorgeous, highly paid, and well-traveled. He's also got more issues than Vogue. Emmy looks after Ben on photo shoots, but she refuses to become another one of his lusting groupies. Ben finds Emmy's refreshingly real attitude to be surprisingly attractive.
Against a backdrop of the most fashionable cities in the world, casual flirting turns into an illicit affair, but when Ben's twisted past is revealed, and the bitter Fiona catches wind of their relationship, their careers and hearts are threatened.
♦♦♦♦♦♦♦♦♦♦♦♦♦♦♦♦♦♦♦♦♦♦♦♦♦♦♦♦♦♦♦♦♦♦♦♦♦
5 Star Review
Who doesn't love Kendall Ryan, right? Well I love her bunches. She writes wonderful stories that always pull me in at the very beginning. Kendall definitely worked it in Working It.
Emerson "Emmy" is your typical country bumpkin born and raised in Tennessee, now living in the Big Apple working for a major modeling agency as the personal assistant to Satan's spawn, Fiona. Emmy is adorable with southern manners and that cute southern twang in her voice. She is quiet and reserved and has a passion for her work. Working with Fiona has never been easy – she doesn't dress in all the name brand fashion gurus clothing; she likes the simple things and Fiona is total opposite of that and Fiona lets Emmy know exactly what she sees when she looks at her – a big ball of disaster. Normally that would crush a person but Emmy is strong and determined to not let Fiona get to her. Emmy doesn't do casual sex – she is a relationship, bring her home to meet the parents kind of girl and wants true love that will last a lifetime. Working around beautiful, stick thin, tall and leggy models she doesn't think she will find that anytime soon because to her she is plan. Short, dull hair and womanly curves she doesn't see sexy when she looks in the mirror she see's cute and adorable.
Ben Shaw is one of Fiona's biggest models. Tall, lean and sexy he can have you eating out of the palm of his hand in seconds. Having been raised in the lifestyle he is used to traveling around the world from one show to the next and easily having any woman he wants. Ben is a grade A panty dropper and knows how to work his sex appeal to his advantage. He doesn't do relationships because he is never in the same place long enough to make anything work so he has been okay with having different woman around him all the time. There are many layers to Ben, yes he is sexy and steamy on the outside but on the inside she is kind and sweet and looking for something different than what he is used to. He wants someone to see him for Ben the real Ben, not the handsome face, not his money, not because he is a model – simply just him.
When Emmy lands a spot traveling beside Fiona to Paris for fashion week she is thrown into working alongside Fiona and Ben for 3 months in the city of love. Emmy is beside herself because this is something she never imagined would happen to her and he doesn't hurt that Ben is very easy on the eyes. Getting to know him she starts to realize that the person he really is, is someone that she could easily fall for. She wants him – badly but knows that he is surrounded by beautiful models and wouldn't take a second glance her way. What Emmy doesn't realize is that she is so much more than what she sees and Ben hasn't been able to take his eyes off her. Sure he doesn't do relationships and commitment but there is something about her that pulls him to her and he wants her bad. He wants her in his bed screaming his name when he brings her to ecstasy.
I loved this book. The emails and texts exchanged between Ben and Emmy when they were getting to know each other in Paris had me rolling. Ben is so cocky and up front and does not have a filter and that's what I love about him. He is honest to fault and doesn't sugar coat anything. There is something different about Emmy and he wants her and he lets her know more ways than 1 that he wants her bad.
And oh boy when things heat up and Ben finally gets what he wants it left me saying…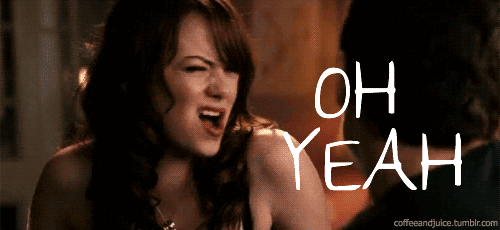 They were HOT together. I am talking burn the mother f-in house down hot. Ben is definitely a man who knows what he is doing and being the shy country girl she is – she lets go in the bedroom. Their chemistry is off the charts and let me tell you the scenes I read did not disappoint me. I was left wanting more. Ben sure did know how to please a woman and he didn't mind practicing his skills on Emmy at all. He saw a different Emmy than what she did. He loved her curves and her womanly figure and he thought she was sexy. He is sweet and yes ladies – he loves to talk dirty. The kind of dirty pillow talk that will leave you wanting too…..
So Ben can you lay you down and do this…
As time goes on you will see that Emmy can't separate the sex from real feelings and that's what she had always been worried about – falling in love with Ben Shaw. She can't love him – he is a supermodel who travels the all over the world and comes across more woman than she cares to think about. They have 3 months together – 3 months of happiness and total bliss and at the end of it Emmy is scared her heart will be shattered because she will go back to her normal life in New York and he will continue on traveling around the world and being every woman's fantasy.
As feelings start to grow the truth starts to come out. Why is Ben so loyal to Fiona? Why does Fiona hate seeing Ben and Emmy getting close? Yep there are twists and turns that left me fuming. I cannot stand Fiona – I hated her from the moment the book started and my feeling only grew the more I read. She wants Ben and she will stop at nothing to ruin what Ben and Emmy have going. Fiona is really Satan's spawn and there were times during the book that I was left feeling….
I really wanted to smack the ever living shit out of Ben and tell him to wake up and realize what Fiona is doing. She is using him for her own gain and he doesn't even see it. The stunts that she pulls is beyond me and it only made me hate her even more. My heart broke for Emmy because she saw it but Ben is loyal and feels like he owes Fiona something when really all Fiona deserves is a good hard swift kick in the ass. And then it happened the final BANG – BOOM – POW and I was left picking up my jaw off the floor. My heart broke for Emmy and I started seeing red. I wanted nothing more than to grab Fiona and rip her to shreds. Emmy was left broken and had me saying….
Can Emmy ever move on after giving her heart to Ben so easily? Will Ben wake up and realize what he had and lost because of Fiona? Or will Fiona get what she has always wanted?
Okay Kendall – I need more Ben and Emmy now, really you can keep Fiona (stupid bitch) – sorry can you tell I don't like her very much? I need more Ben and Emmy NOW! Loved this story – sexy parts, sad parts, parts that made me royally pissed off – all of it. Great job. Can't wait to see more of Emmy and her knowing she is Working It.