Synopsis
At ten years old, Noah Jameson and Cooper Bradshaw collided mid-air when they dove for the same football. For three years, they were inseparable…until one day when Noah and his parents disappeared in the middle of the night.
Noah and Cooper never knew what happened to each other. Now, seventeen years later, after finding his boyfriend in bed with another man, Noah returns to Blackcreek looking for a fresh start. And damned if he doesn't find his old friend grew up to be sexy as sin. Coop can't believe Noah—the only person he trusted with the guilt over his parents' death—is back. And gay… Or that Cooper himself suddenly wants another man in his bed for the first time. 
There's no denying the attraction and emotion between them, but can they overcome the ghosts of their pasts to have a future together? 
This title contains two strong, sexy men, and a passionate friendship that transforms into a sizzling hot romance.
Ena's 5 Star Review
Childhood friends that shared a strong bond that will stand the test of time.
After reading Collide by Riley Hart I felt like I had just collided with a true love story that will hold a special place in my heart. Cooper and Noah are two beautiful characters and proved that no matter what a person comes up against that love is always strong enough to conquer anything. The progression of the relationship with Cooper and Noah was a treat. Collide truly told the story of two souls that were destined for each other at a young age but didn't quit know to the extent of that bond until much later in life.
After being away from each other for over a decade Noah moves back to Blackcreek not really sure what he is looking for but knowing he needs to new start and Blackcreek was always home to him. After a hard ending to a year long relationship he packs up and heads back to the town where the story gets really good. After arriving in Blackcreek and colliding (literally) with his childhood best friend Cooper everything changes and their lives are flipped upside down in the most pleasurable way possible.
Noah is openly attracted to men and he isn't ashamed of that and will never hide his relationships again from anyone. Cooper, his best friend, is straight and loves woman. Something starts to burn inside Noah when it comes from Cooper and he knows that it can only lead to heartache since he clearly doesn't have the tools that Cooper is attracted too. He knows he shouldn't want his best friend in ways that make even me blush but he does and he doesn't know what to do about them. When Cooper starts having these crazy ideas and feelings running through him when it comes to Noah, thoughts of…..
Coop freaks out. He is straight, he has NEVER been attracted to men and has always found the comfort in women. Granted Noah was his best friend and always meant the world to him but never has he thought things like that about him. He can't be with a man. Right? Cooper struggles with his feelings for awhile and goes back and forth not understanding why he wants Noah and what that means for him. He is scared of those feelings and tries to push them aside but when Noah finds Wes his jealousy is so fierce that he clearly decides he needs to explore his feelings and hopes that it will pass and everything will go back to when their friendship was easy.
"Jesus. I saw you kissing that guy and…what the hell is wrong with me? I had a beautiful woman in my bed and …shit." Cooper shook his head. Slid both hands through his hair and yanked as though that would somehow change things. "I wanted to kill him."

I wanted to be him….
Yes the lightning bolts start flying. Coop gives him to his feelings and takes the leap to explore those feelings with Noah and it was beautiful! There were sweet moments of….
And toe curling moments of….
All the way to the panty dropping moments of…
"If this is happening, we need to get a few things straight. I don't share, Coop. Especially not you. If I'm going to be in your bed at night, that means no one else is ever there until one of us tells the other this isn't what we want. I'm not pushing you to get into a relationship with me, because I know this is new for you, but I also don't want anyone else's hands on you until after you say we're done. I don't care if it's a woman or not. Is that something you can handle?"
You think things go smoothly and their relationship is easy but then you remember that before Noah, Cooper has never questioned himself and who he is and he is still scared to bring his relationship with Noah out in the open. He is confused and lost and doesn't know why he feels the way he does with Noah. It's different, something he hasn't felt for another human being ever and it scares him.
My heart broke for Noah during Collide because I could tell just how much he truly did love Cooper and he wanted nothing more to be happy with him but he loved him enough to give Cooper what he wanted even if that was just friendship. All of this was new to Coop and scary and he understood that.
"Then, we shouldn't. I think I knew that from the beginning. I know how you are, man. You don't back down. You don't want to seem scared and you're always looking for the next adventure. I can't be your adventure, Coop."
At this point Riley had me…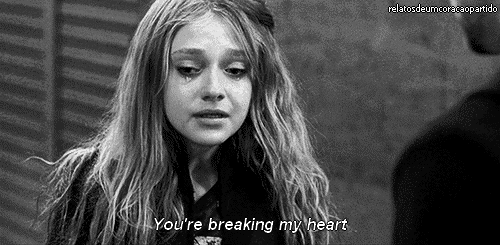 It was heart breaking to see a man whose feelings for another man run so deep but yet the fear of what people will say and what people will think make you push away the one person that you know in your heart will always own your heart away. The one man who you want everything from but are too scared to take that leap and collide with them into the future.
"You think I don't fucking know that?" Coop shouted. "You think I wasn't telling myself to chill the fuck out, the whole time? That I didn't know you had a right to be with him? That I don't realize it's my own fucking weakness that leaves me aching for you every fucking day? I know that, Noah."
Sometimes you have to lose someone to realize just how important they are to you. You have to walk away from something beautiful to know its true beauty. For Cooper that is what he did. He couldn't face the fact that yes he was in love with another person and that person just happened to be a man. But when tragedy strikes it may be too late to get that person back. Life is short and tomorrow is never promised. Cooper had to fight for what he wanted but he realized that he had to fight himself and know that it doesn't matter what the world thinks. Loving a person is never wrong no matter their gender but for Cooper and Noah it may be too late for to know that. Oh I guess I didn't mention that Cooper is a firefighter and sometimes in life we get burned.
Can Cooper come to terms with his feelings for Noah before the fire smothers him? Can Noah stand to have his heart broken again but this time by the person who has the ability to shatter it beyond repair? Or will Cooper and Noah's love for each other be strong enough to collide with the fire around them and smother the doubt and only then truly ignite their own flame of passion between them.
There is NO cliffhanger to this book. The story for Cooper and Noah does end in Collide.