Synopsis
Ethan Hudson is a man accustomed to being in control…of all situations in his life. Yet, much to his dismay, he finds himself at the mercy of cancelled flights that are determined to mess with his well-ordered plans. Added on to this dilemma is his unexplained attraction for his male colleague… 
David Mallloy believes in going after what he wants…and fate appears to have given him the golden opportunity to make his move. His desire for Ethan has been brewing for months, and now is the time to let the other man know exactly how he feels. 
Stranded in Paradise is an erotic romp through anticipation, discovery, and excitement. With a strong m/m focus, hang on tightly because there is a surprise menage a trois ending that you don't want to miss! 
Erotica….menage a trois….m/m…m/f…m/m/f 
4 Stars
**Warning this is a male/male erotic novella, if this is not your thing or you are easily offended please do not read this review. There are GIF graphics towards the bottom that may offend some people. If you do enjoy the male/male romance genre then read away and enjoy Stranded in Paradise!**
Caution when reading this book – you might get burned. This book is all sorts of naughty hot…Here is the rundown of the book before I jump into how I felt about it. This is a novella length book great for an afternoon read especially if you need some M/M TLC! Two professionals are stranded in Chicago on their way home from a business meeting and have to spend another night in the city. Ethan, currently divorced, who is always in control over everything finds his self out of control when it comes to his feelings for David. Never having ventured down that road before and always being attracted to woman he doesn't understand the urges he gets when he is around David. David, who is more of an open mind when it comes to sex, has been attracted to both men and woman. He has always had a desire to see what Ethan would feel like naked and pressed against him. After having been stranded in Chicago he takes that as a sign to see where their relationship may lead if he could get Ethan to finally relax and admit the attraction. Booking a room at the hotel Ethan is ready to show David that it is okay to not be in control all the time, and it is okay to give in to the desires you feel even if you think they wrong.
So David has one night to have Ethan relax and give in to his desires, will he succeed? Will Ethan finally learn to let go and relax and just enjoy the pleasure that David can give him? Or will David continue to hold his desires in and control the situation leaving them just stranded in Chicago instead of being Stranded in Paradise?
Okay let's get to the good stuff shall we? This novella is all sorts of hot! Short read, yes but if you are looking for a short steamy read just to satisfy your needs for some male/male lovin' you need to read this book. Sarah wasted no time jumping into this story and giving me exactly what I was looking for. I wanted descriptive, hot, male/male action and that is exactly what she delivered all wrapped up in a nice big bow.
When the story first started and I found out what David had planned and all the things he was hoping would happen between him and Ethan he made me feel….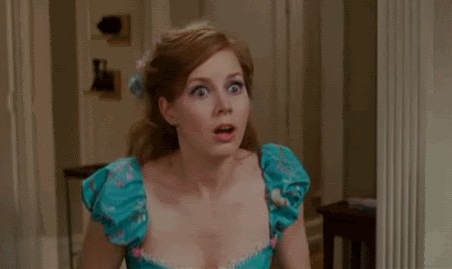 At first I was a bit nervous because Ethan is such a control freak. Always holding the control and not letting his guard down and never relaxing so I wasn't sure exactly what was going too happened. I didn't know if he would finally just let go and give in to pleasure. When he finally did start to relax and give in to the desires that was coursing through his veins I found myself…
I really really needed some good sexy naughty fun and those boys delivered with everything that had. There was….
Not only did this make me hot but it left me wanting more! After Ethan and David talked about what they were both looking for while being stranded and Ethan said he would try things really started to eat up. I mean like holy freaking hotness hot. Seductive, sexy, steamy, and all sorts of naughty and I was craving every bit of it.
There was this….
Which lead to this….
And then we get the grand finale…..
Oh but wait Sarah brings us a little added bonus into this book. But you will have to read it to find out I can't give away all her secrets! The only thing I wish was different about this novella was that it was longer. I wanted more from Ethan and David. I wanted more after their weekend in paradise. I hope that she brings us more Ethan and David and all the hotness that runs between them. Great job on this novella Sarah you totally rocked my socks off, and my panties (pun intended)!